DietAssist responds to news that celebrity chef recipes may be unhealthy
Sunday, April 28th, 2013 at 12:11 pm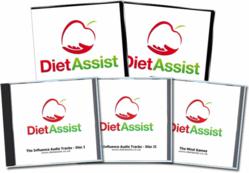 (PRWEB UK) 28 April 2013
Researchers at Coventry University found that 87 percent of the 904 recipes from the 26 cooks tested fell substantially short of the British government's healthy eating recommendations.
The researchers refused to say which chefs recipes were tested, but said that random samples had been taken from best-selling books and websites in such a way as to ensure a balanced representation of different types of meals.
After an analysis of each of the recipes, the academics discovered that only 13 percent used ingredients that presented an overall nutritional composition that would be considered healthy in accordance with benchmarks set by Britains Food Standards Agency.
Some 92 percent of celebrity chefs sampled had at least one recipe with saturated fatty acids above the recommended intake for one day, the study found.
One meal contained more than five times the recommended amount, while half of the chefs had recipes with salt content equalling or exceeding the daily recommended limit of 6g.
Researchers also found 96 percent were high in saturated fat, while 65 percent had a high level of sugar.
DietAssist maintain that hidden calories are the bigger problem, and their recent article, How many calories to lose weight showed that it only takes around 300 calories to separate an obese person from a lean one.
Rob Woodgate, co-creator of DietAssist, said Whilst recipes from celebrity chefs are undeniably unhealthy, we think the public are generally clever enough to realise this, especially as they are preparing the recipe for themselves.
We think the bigger problem lies in the pre-prepared foods available in the supermarkets, especially the so called healthy or low fat options which are loaded with sugars. Preparing food from scratch is a great way to become consciously aware of exactly what you are eating.
At DietAssist, we teach people the psychology of dieting and tricks to help them work with their mind so that they can lose weight more easily.
The DietAssist programme is the result of over 20 years experience of helping people to lose weight effectively, and uses the latest psychological techniques to avoid the self sabotage and demotivation that dieters commonly experience.
The DietAssist programme helps dieters strengthen their motivation and resolve, and creates the optimum psychological state for success. It is designed to work alongside any weight loss programme or sensible eating plan.
Find More Cooking Press Releases
Tagged with: Celebrity • Chef • DietAssist • News • Recipes • responds • unhealthy
Filed under: Cooking
Like this post? Subscribe to my RSS feed and get loads more!