Harvest on the Harbor, Maine's Premier Food and Wine Experience, Adds Two New Events!
Tuesday, July 24th, 2012 at 3:26 pm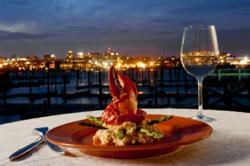 Portland, Maine (PRWEB) July 20, 2012
The Convention + Visitors Bureau presents the fifth annual Harvest on the Harbor — Maines Premier Food and Wine Experience, to be held October 24-27, at Ocean Gateway on Portlands picturesque waterfront.
New to the Harvest line-up this year is the Cutting Edge: Culinary College Competition this is a cooking event with a cause designed to introduce the next generation of culinary talent. Four notable student teams from Maines esteemed culinary programs will compete for the title of Maines first Cutting Edge Chefs, as well as a hearty scholarship to help them reach their goals of epicurean success. This seafood soir
Tagged with: Adds • Eating Out In Houston • Events • Experience • Harbor • Harvest • Maine's • Premier • Wine
Filed under: Houston Restaurants
Like this post? Subscribe to my RSS feed and get loads more!