Mayor Parker Kicks Off 2013 Campaign
Friday, April 26th, 2013 at 9:33 am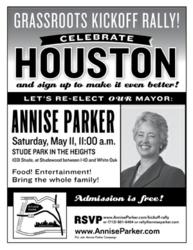 Houston, TX (PRWEB) April 26, 2013
Houston Mayor Annise Parker kicks off her 2013 re-election campaign on Saturday, May 11, declaring the best can always get better.
The kickoff will be held starting at 11:00 a.m. at Stude Park located at 1031 Stude at Studewood between I-10 and White Oak. Enjoy hot dogs and music and meet Mayor Parker. A flyer for the event can be downloaded at: http://www.anniseparker.com/wp-content/uploads/2013/04/ParkerKickoffRally.pdf.
Ive always known Houston is the best but now others recognize that, too, said Mayor Parker. Just last year Houston was named the 7th best place in the world to visit in 2013, by the New York Times, the #1 city in America to further a career, according to Monster.com, and, my favorite, Forbes Magazine says we are Americas Coolest City.
But I know the best can always get better. Our city government is cutting waste, borrowing less and doing more on a pay-as-you-go basis, so we can afford vital programs, like public safety, after-school programs, new libraries and demolishing dangerous buildings. Our dedicated fund for street repairs and flood prevention is making a difference. And our economy is continuing to grow and attract new businesses and jobs.
Join Mayor Parker in her re-election bid for a third term. Visit http://www.AnniseParker.com to learn more about the campaign and how you can help. Follow Mayor Parker on Facebook and Twitter.
A businesswoman, community leader and mother, Annise Parker is completing her second term as Mayor of Houston with a strong focus on growing our local economy, keeping Houston safe and improving the quality of life for every Houstonian. Annise has also served for six years as a city councilmember and six years as controller. She worked for 20 years in Houstons oil and gas industry after graduating from Rice University and served in a variety of community leadership roles before her election to public office. Learn more at http://www.AnniseParker.com.
Tagged with: 2013 • Campaign • Kicks • Mayor • Parker
Filed under: Houston
Like this post? Subscribe to my RSS feed and get loads more!