Napas Inn on First Innkeeper Wins Champion of the Bed and Breakfast Industry Award
Monday, January 30th, 2012 at 6:06 am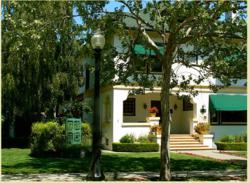 Napa, CA (PRWEB) January 28, 2012
Jamie Cherry, one of the innkeepers of Napa Valleys bed and breakfast, The Inn on First, was recently awarded the Champion of the Bed and Breakfast Industry Award from the Professional Association of International Innkeepers (PAII). Cherry received the award in recognition of his efforts to promote the innkeeping industry. The award will be formally conferred on Jan. 26 at the 2012 Innkeeping Show Awards Luncheon at the Peabody Hotel in Little Rock, Ark., from 12:30 to 2:00 p.m.
Language is a powerful tool, and it is the basis in forming culture and ideology, even in the world of the travel business. In working with an organization that is responsible for promoting Napa Valley as a tourist destination, I am committed to changing the language used by this and all local and county organizations that promote travel to the Napa Valley that the word hotel is not appropriate when discussing lodging properties in the area, which includes dozens of bed and breakfast inns, Cherry said in his acceptance speech. We are not hoteliers, we are innkeepers, and there is a world of difference between the two. Our terminology should be more inclusive in order to continue to invite people to a broader understanding of the diversity of lodging options available to them.
The Champion Awards are given to anyone who has helped advance the trade of innkeepers and innkeeping locally, regionally, nationally or internationally. Such actions may include legislative or regulatory successes, or a public relations breakthrough that elevates the profile of the bed and breakfast industry. Nominations are presented to the PAII Board of Directors in the fall prior to the PAII annual conference. The Board of Directors may choose to award as many recipients as deserve it.
The Inn on First is a plush bed and breakfast inn that combines Napa Valley tradition with San Francisco modernity. Cherry, a customer service specialist with a vast background in high-profile financial services, and chef Jim Gunther, a California Culinary Academy graduate with experience cooking for Relais and Ch
Tagged with: Award • Breakfast • Champion • First • Industry • Innkeeper • Napas • Wins
Filed under: Houston Restaurants
Like this post? Subscribe to my RSS feed and get loads more!