NAPW Chicago Local Chapter Heard Tips on Starting and Growing a Business from a Panel of Experts and Learned the Importance of Personal Branding at May and June Meeting
Tuesday, November 27th, 2012 at 3:49 am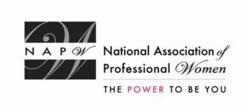 Garden City, NY (PRWEB) September 25, 2012
The NAPW Chicago, IL Local Chapter held professional networking events during the months of May and June. During each meeting, members and guests had the opportunity to attend two informative and relevant workshops: Starting and Growing a Business 101 in May and Creating Your Unique Personal Brand in June. Mays workshop was presented by a panel of successful women entrepreneurs, many of whom are NAPW Chicago, IL Local Chapter members and in June, member Toby Nathan presented her tips on personal branding.
On May 16th, nearly 30 members and guests gathered at Union Park Lounge in Chicago for an exhilarating and engaging networking event. Chapter President Megan Wessels kicked off the meeting by welcoming the panelists, moderator, and keynote speaker.
Each panelist had something unique to offer and share with the group. Together they covered many important aspects of being a successful business owner, said Megan. The room was filled with energy and enthusiasm.
Panelist speakers included: Barbara Sharpiro, Owner and Personal Trainer/Martial Arts Instructor at BeFit Personal; Toby Nathan, Principal at RecruitaStar; Lise Marinelli, President at Windy City Publishers and Second City Books; Lisa Henson, President at Henson Healthcare Placement Inc.; Toby Nathan, Principal and Co-Founder at RecruitaStar; Jamie Pritscher, Chief Brand Officer at NuphorIQ and Co-founder and CEO at Thats Caring; Erin Walter, Chief Executive Officer at NuphorIQ; and Dr. Michele Kehrer; Owner and Chief Physical Therapist at LifeStyle Physical Therapy & Balance.
The session was moderated by Jennifer E. Lacroix who challenged and engaged the panelists to explain and offer advice on many key topics including best practices in starting up a new business, creating a brand, and hiring the right talent.
Dr. Terri Friel offered insightful closing statements and touched upon some of the important key points of building a successful business. Her topic was Planning for Growth in the Early Years;
How to Build Foundations for Success.

Megan gave a special thanks to all of the volunteer panelists and speakers for sharing their knowledge and providing inspiration to all who attended the networking meeting. Members, guests, and panelists had this to say about the workshop:
The panelists did a great job providing inspiration and advice for future women entrepreneurs. Both the moderator, Jennifer Lacroix and Chapter President, Megan Wessels had prepared questions for them in advance that kept the audience engaged and interested in learning from these awesome women, said Robin Schaltz, Director of Creative Services True Value Company and NAPW Chicago, IL Chapter VP Marketing and PR. You could feel the energy, passion, and empowerment for building a successful business throughout the entire room!
It was fun to be part of the panel last night. Thank you for bringing a wonderful group of women together, said Barbara Sharpiro, Owner and Personal Trainer/Martial Arts Instructor at BeFit Personal. I made new acquaintances, learned information to further my business, and was re-energized through the positive energy of the evening. I look forward to future events.
It was a great program with awesome speakers that provided so much practical/useful information, said Toby Nathan, Principal, RecruitaStar, LLC. It was a winner and you were able to create the right energy and team of panelists! Congratulations. The group really complimented each other and thank you for allowing me to be an integral part of the program. I look forward to the June 1st branding program!
Toby is scheduled to be the guest speaker at the Chapters June event and will present a workshop titled Creating Your Unique Personal Brand. Branding isnt just for products or companies. Personal branding can help professionals, entrepreneurs, job seekers, and more stand out from the crowd. Branding (how you package yourself internally and externally) should be the first step in developing your personal and professional career presence. Learn how to develop a strategy to build your brand with easy, practical ideas from Toby. napw.com/profile/10759882/Toby-Nathan/; toby(at)recruitastar(dot)com
The Chapter also organized a White Sox Game for Saturday, June 9th at 3:10pm. The event was open to inviting additional guests, up to two per person. Tickets were $ 18 per person.
The following 21 members and eight guests were present at the May networking event: Alexis Fincher, Pamela Wilson, Annice Roberson, Creighton Hartanov, Elaine Roberts, Gretchen Weiler, Jamie Pritscher (panelist), Jennifer Lacroix (moderator), Kathryn Kemp, Kim Walberg, Linda Johnston, Lisa Henson (panelist), Lise Marinelli (panelist), Luna Nino, Martha Tierney, Nell Shuttleworth, Petrina, Mccurine, Radomma, PJ Lewis, Robin Schaltz, Sarah Neukom, Toby Nathan (panelist), Terri Friel (closing remarks), Michele Kehrer (panelist), Barbara Shapiro (panelist), Omm Walker, Sherada Washington, Erin Walter (panelist), and Megan Wessels.

Panelists bios:
Lise Marinelli-NAPW Chicago, IL Chapter Member: napw.com/profile/10855202/Lise-Marinelli/; President at Windy City Publishers and Second City Books; windycitypublishers.com/contact.html; secondcitybooks.com/about-us/. Lise founded Windy City Publishers in January 2009 after realizing the publishing industry was changing dramatically and the old way of doing business was not meeting the needs of new writers. Lise honed her business management and client-service skills as Owner of a number of successful business ventures. Her experience as an Author keeps her connected to the creative side of the publishing business and her mission for Windy City Publishers is simple – continue to serve the literary community with integrity and honesty, and to give writers and authors their best chance for success.
Lisa Henson-NAPW Chicago, IL Chapter Member: napw.com/profile/10947196/Lisa-Henson; President at Henson Healthcare Placement Inc.; hensonhcp.com/about-us. Lisa has enjoyed an exciting and diverse career for the past two decades. In the 1990s, Lisa started off as a lab tech then went on to work for various pharmaceutical and chemical companies in the areas of research and development and quality control. In the 2000s, Lisa traded in her test tubes and beakers for a career in sales. Working for Fortune 1000 companies such as Xerox, Canon, and New York Life, she understands the importance of building solid business relationships with her global clients to address their business needs. As she entered into a new decade, Lisa launched Henson Healthcare Placement Inc., which specializes in healthcare recruiting.
Toby Nathan-NAPW Chicago, IL Chapter Member: napw.com/profile/10759882/Toby-Nathan; Principal and Co-Founder at RecruitaStar; recruitastar.com/our-team.html. Toby is a Principal and Co-Founder at RecruitaStar, LLC, a recruitment service provider in Chicago that helps growing companies by delivering the skills of a traditional search firm in a nonconventional package. An early pioneer in online recruiting, Toby has spent the last 15+ years helping employers ranging from startups to global organizations build talent communities and hire the best talent for their open positions. In her off hours, Tobys passion for helping employers and job seekers connect effectively extends to her volunteer work with the University of Illinois Chicago as an Alumni Career Center Advisory Committee member.
Barbara Shapiro-NAPW Chicago Chapter Member: napw.com/profile/10823625/Barbara-Shapiro; Owner and Personal Trainer/Martial Arts Instructor at BeFit Personal; Training Studio befit4u2.com/about/default.html. Barbara's focus is helping clients achieve better health, improved posture, body awareness, and confidence through core training. Through the use of unstable surfaces and other functional pieces of equipment she emph
Tagged with: Branding • Business • Chapter • Chicago • Experts • from • Growing • Heard • Importance • June • Learned • Local • Meeting • NAPW • Panel • Personal • Starting • Tips
Filed under: Houston Restaurants
Like this post? Subscribe to my RSS feed and get loads more!