Sonoma's Mayo Family Winery Introduces Guest to Summers Bounty With New Reserve Room Pairing Menu
Friday, July 20th, 2012 at 3:40 am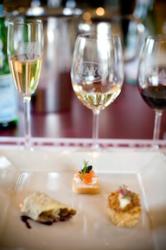 Sonoma Valley, California (PRWEB) July 18, 2012
Peaches, Hibiscus, Ricotta, Passion Fruit, Wellington and more are being served as part of the new Summer/Harvest food and wine pairing menu at the Mayo Family Winery Reserve Room in Sonoma Valley. Designed and executed by Reserve Room Chef J. Clayton Lewis, the new pairing menu gives visitors an in-depth food and wine pairing experience featuring seven small plates and seven reserve wines for only $ 35.00.
The recently introduced Summer/Harvest 2012 pairing menu prepared by Chef Lewis celebrates the bounty of the summer harvest and includes the following pairings:
SHEEP MILK RICOTTA WITH ORANGE AND HIBISCUS ON BRIOCHE POINTS

Paired with: 2006 Brut Sparkling Wine, Laurel Hill Vineyard, Sonoma Valley
GRILLED PEACHES WITH PEANUTES AND CHILE

Paired with: 2OO8 Viognier, Saralees Vineyard, Russian River Valley
LOCAL SEAFOOD "BACALAO" GOUGERE

Paired with: 2008 Estate Pinot Noir, Laurel Hill Vineyard, Sonoma Valley
DUCK CONFIT GUMBO

Paired with: 2007 Reserve Merlot, Merediths Cuvee, Los Chamizal Vineyards, Sonoma Valley
"WEST COAST" WELLINGTON

Paired with: 2007 Reserve Meritage, Olivers Twist, Napa Valley
SOY MARINATED NEW YORK STRIP AND ARUGULA SALAD WITH ASIAGO GAUFRETTE

Paired with: 2OO7 Reserve Cabernet Sauvignon, Elspeths Block, Delaney Family Vineyards
PASSION FRUIT AND PEACH PARFAIT

Paired with: 2OO9 Late Harvest Gewurztraminer, Kunde Ranch Vineyard, Sonoma Valley
Summer is when bright, exuberant flavors come to the fore, notes Chef Lewis. Our new pairing menu highlights the boldness of summer flavors and demonstrates how they can be enhanced and accentuated when paired with a well-matched wine.
The Summer Pairing menu is available to visitors daily from 10:30am to 6:30pm. Reservations are suggested, but not required. Founded in 2005, the Reserve Room provides guests with a comfortable setting in the shadow of the Mayacamas Mountains where they experience a seven-course pairing menu that includes seven Mayo Family Reserve wines each matched with seven freshly prepared tasting dishes. The cost is $ 35 per person. For more information or reservations: http://www.mayofamilywinery.com/Reserve-Room or call (707) 833-5504. The Reserve Room is located in the village of Kenwood in Sonoma Valley.
Tagged with: Bounty • Family • Guest • Introduces • Mayo • Menu • Pairing • Reserve • Room • Sonoma's • Summers • Winery
Filed under: Houston Restaurants
Like this post? Subscribe to my RSS feed and get loads more!