Visit Modern Architecture Marvels in Silicon Valley This Weekend
Friday, April 11th, 2014 at 3:51 am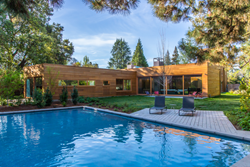 Silicon Valley, CA (PRWEB) April 10, 2014
The third annual Silicon Valley Modern Home Tour takes place this weekend. During the self-guided driving tour, five architecturally progressive and contemporary homes that exemplify modern living in the Silicon Valley area will be open to visitors. Tourgoers have the rare opportunity to see the inside-and-out of these amazing private homes and meet the architects and homeowners.
Ingrid Spencer, former managing editor for Architectural Record Magazine, has selected and curated five awe-inspiring homes for the 2014 Silicon Valley Modern Home Tour.
(1) An amazing home in Menlo Park, designed by local architect Dan Spiegel of Spiegel Aihara Workshop, that re-appropriates the traditional forms of the California ranch house and farm tower as tools of environmental performance and social interaction.
(2) A wonderful display of modern architecture by WA Design, located in Saratoga at the foothills of the Santa Cruz Mountains, that comprises a set of smaller 'buildings' interconnected by glassed-in walks and vaulted roof structures.
(3) A Palo Alto Eichler home, originally built in 1950 and part of the National Register listed Green Gables neighborhood, which was expanded and completely remodeled in 2012 by Design for Living.
(4) An early Mid-Century Modern house in Palo Alto that has bookend type additions front and back that completely transform the character of the house, while complementing the original design – recently renovated and updated by M110 Architecture.
(5) A second M110 Architecture renovation in Palo Alto, this original Eichler home demonstrates how flexible the original post and beam construction method can be, as this house has been re-purposed throughout without adding any floor area.
This year's Silicon Valley Modern Home Tour will be held in conjunction with the Silicon Valley Contemporary Fine Art Fair. Created as a cooperative event in between premier home tour organizer, Modern Home Tours, and the Hamptons Expo Group, producers of the nation's leading contemporary art fairs, the combination home tour and art fair ticket will highlight the complementary intersection of contemporary art and modern design.
Participating stops on the 2014 Silicon Valley Modern Home Tour will be open for viewing from 11:00 am – 4:00 pm on Saturday, April 12th, in and around Silicon Valley. The final stop of the home tour will be Silicon Valley Contemporary's VIP Lounge featuring a wine and small bites reception, including a "Meet & Greet" with featured Tour architects. The tickets to attend the 2014 Silicon Valley Modern Home Tour on Saturday include admission to the Silicon Valley Contemporary Art Fair throughout the weekend.
Vision Literacy, a Santa Clara County-based nonprofit focused on providing comprehensive adult and family literacy education services, has been named as the 2014 Silicon Valley Modern Home Tour partner.
For more information on the 2014 Silicon Valley Modern Home Tour, visit http://modernhometours.com/event/modern-home-tour-conjunction-silicon-valley-contemporary; for more information on the Silicon Valley Contemporary, visit http://siliconvalleycontemporary.com.
About Modern Home Tours, LLC: Based in Austin, Texas, Modern Home Tours, LLC was founded by partners James Leasure & Matt Swinney in 2010 to introduce modern architecture and modern living to people throughout the world. Through fun and informative tours in dozens of cities across North America, the group invites people into some of the most exciting examples of modern architecture and design that can be found. With carefully selected architects, neighborhoods and living spaces, a Modern Home Tour is unlike anything you've ever seen. Not only will you learn about the very latest in home design while on our tours, but you might even get an idea or two for your next home project!
About Hamptons Expo Group: The Hamptons Expo Group has emerged as one of the fastest growing fine art fair producers in America. Their "boutique" shows feature prominent galleries offering the finest in post-war and contemporary art. Headquartered in Southampton, New York, the Hamptons Expo Group created and produces ArtAspen, ArtHamptons, Silicon Valley Contemporary, Houston Fine Art Fair and Palm Springs Fine Art Fair.
Tagged with: Architecture • Marvels • Modern • Silicon • This • Valley • Visit • Weekend
Filed under: Houston
Like this post? Subscribe to my RSS feed and get loads more!